Tantric Yoni Massage Therapy: How? What Is It? Top 7 Benefits
Attention Women! Do You Want More From Life?
Yoni Massage from a woman's perspective written by Jenny Hale, Psychologist & Relationship Counselor
"Modern life is hard, especially for women. Impossible, conflicting demands, emotional and financial stress, everyday sexism, and sometimes outright discrimination or even abuse – all these realities create tension and trauma, in our minds, but also in our bodies and souls. We are not prepared for this kind of pressure – not by our parents, not by our schools, and not by our communities.
Have you ever wondered, "Is this all there is?" Have you ever asked yourself, "What about me? When will I get to truly live my life?"
I don't have all the answers for you, but I can share one amazing secret that changed my life forever: as women, our power to create our lives is deeply connected with our sexuality.
We are shamed and separated from our true selves when we are shamed for being sexual. We carry the pain of this separation in the tissues of our body. It restricts the flow of our blood, the flexibility of our limbs, and the reach of our imagination. It cuts us off from our own power, from our hearts and souls.
If you feel alone, if you feel a subtle long-term sadness, or a deep and secret anger, you may be feeling the impact of this separation.
When we heal this separation, when we release this trauma and tension from our bodies, when we free the rebel yell from our throats, then (and only then) can we take charge of our lives, and live them fully.
One pathway to this healing is the sacred art of yoni massage. And Steffo is a masterful practitioner." – Jenny Hale, Psychologist & Relationship Counselor
Massage has been used as a healing technique for thousands of years. Modern massage, however, is very careful to stay away from the parts of the body which have been sexualised – for women, this means the breasts and the genitals.
What we know from both ancient texts and modern science, however, is that one of the most sensitive areas for storing tension and trauma is the pelvic floor. And, some of the most important release points for pelvic floor tension can only be reached from inside the vagina.
What to do?
A small group of pioneers have begun offering therapeutic massage which reaches even to these interior release points. Working sensitively and carefully, in a non-sexual context, with step-by-step consent, a yoni massage practitioner can open the way for you to safely and supportively reclaim your sexuality, your emotions, and your life, by reclaiming this vital part of your body.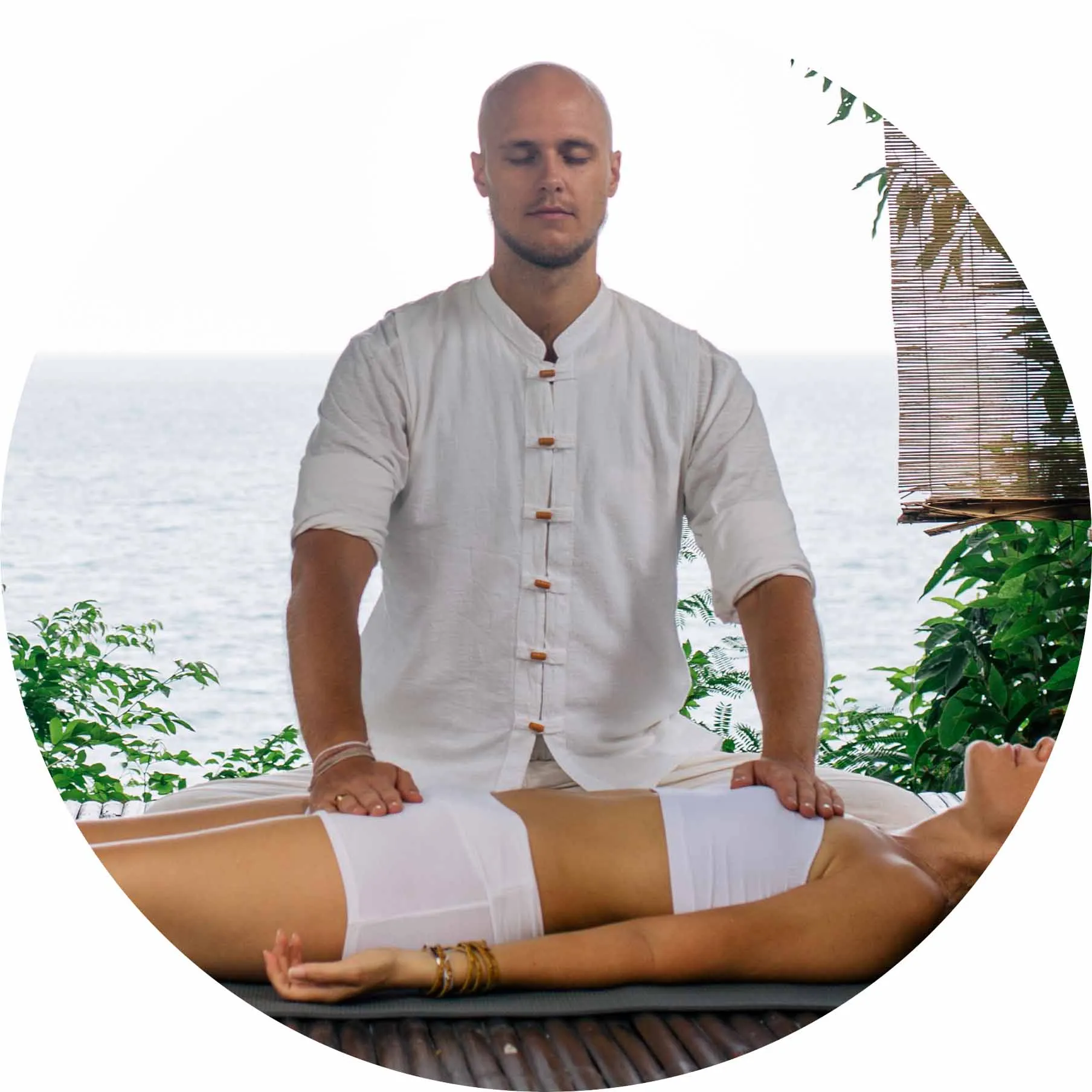 Hi, I'm Steffo. Your massage therapist. Contact me for free consultation!
"Steffo is a beautiful, safe and clean support for your inner discovery of your own sexuality. Go there!" ~ Sanna, Sweden

What are the benefits of Yoni Massage therapy?
Freedom from tension, pain, and limitation:
Women can store traumas and negative emotions as tension in their pelvic area. This kind of massage, done in a safe and loving environment, allows you to eradicate all those blockages, become free and confident about your sexuality, and reclaim your personal power.
Relax and receive:
Receive release and pleasure without being expected to give anything back in return. Simply relax, and let your practitioner be "in charge" for a while. For some women, it is the first time in their lives that they have been free to simply be themselves, feel what they feel, and express whatever arises.
Increased presence and awareness:
Very often, to cope with the level of chronic tension in their pelvis, women become numb, and feel less sensation. In this type of massage, when you are touched with awareness and compassion, you are guided into bringing awareness to the places of their body you may have been avoiding. This new awareness greatly helps intensify your sensations and connection with your body. Sometimes this attention alone can awaken orgasmic bliss.
Spiritual practice:
Learn how to channel your sexual energy to the higher levels of your being. Learn to use sexual energy to increase your self-confidence and lucidity, to open your heart to love, to become more creative, to improve your mental concentration, and even to increase your spiritual connection with the Divine.
Increased sexual pleasure:
Enjoy sexual pleasure in your whole body and not only in your clitoris. Increase your awareness of the different parts of your vagina by making a map of your "pleasure potential". Different movements and techniques help you to create a stronger connection between the yoniand the rest of the body, so that your whole body vibrates with sexual energy. This phenomenon can lead to full-body orgasm and even to becoming multiorgasmic!
Discover the power of receiving:
"In giving you receive" but also "in receiving you give." By receiving this kind of massage you attune with your receptivity, heightening and increasing your sensitivity, connecting with the physical body and sensation. You will see and feel how much your practitioner genuinely values and appreciates your trust. This can open up your willingness to receive in all areas of life.
Mastering sexual energy:
If you are interested in deepening your sexual pleasure or becoming a fully Tantric practitioner, this massage will help you master your sexual energy, so that you can make love for a long time without getting tired or having pain, and can use the sexual energy to revitalize your whole body.
"Steffo Is a wonderful (hu)man being who makes you feel safe and who has the gift of holding a really good space for you, whatever comes up." ~ Sandra, Sweden

How is Yoni Massage technique done?
Yoni massage does not involve sexual intercourse and does not lead to it. It is performed only with the hands.
You may be nervous, especially before your first session, so we spend some time at the beginning of the session relaxing, meditating, inviting Divine grace, and setting an intention for the session.
I begin by giving you a full-body relaxing massage, so we can identify any tensions in your arms, legs, back, shoulders, hips, and abdomen. You may want to spend your entire first session working with these external tensions, or you may find yourself ready to explore your more intimate areas.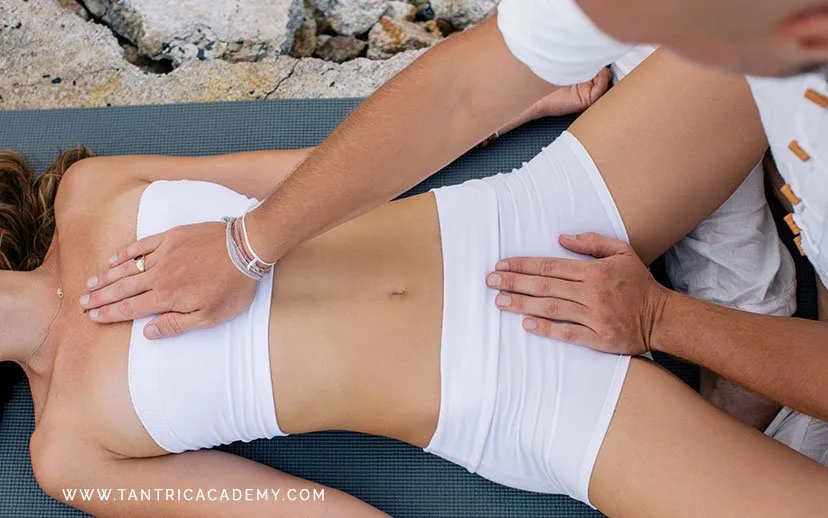 At your invitation, I will gently approach the outer parts of your genitals – the inner thighs, pubic mound, labia, and the entrance to the vagina. Bit by bit, we will map any areas of pain, numbness, or tension, and release whatever is ready to let go in each moment. While you may find this pleasurable, I maintain a constant therapeutic presence, with my full attention on monitoring your progress. This allows you to relax and go fully into your experience.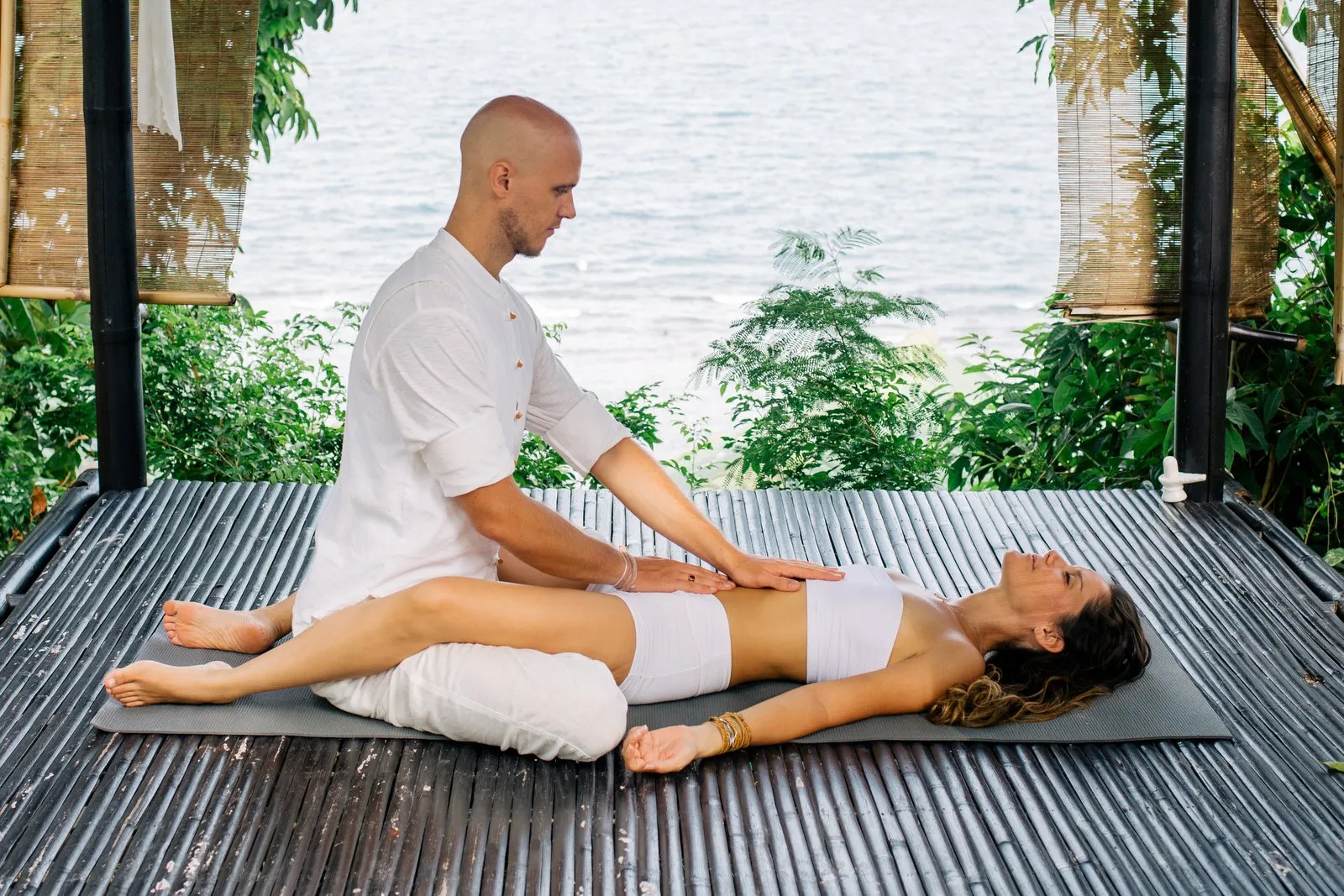 When the time is right, either in the first session or a later session, you will invite me to explore the release points which exist inside your vagina. Again, we may find numbness, we may find pain or tension, and you may experience mild or intense pleasure. You will guide the massage to the areas which most need work, and I will support you in releasing into freedom and ease in those areas.
You may cry, or you may laugh. You may scream, or moan in pleasure. I welcome your movement, your expression, and your release. I make it safe for you to give voice to your deepest experiences.
We will finish each session with a deep relaxation and meditation, to integrate the experience, and to establish a new internal balance. I encourage you to allow yourself some quiet time after each session, as you may not want to rush immediately to the next appointment in a busy schedule.
"As I look back and count things to be grateful for this year, my experience with Steffo and learning about my body through yoni massage stands out!" ~ Stephanie, USA

Why go to a man for a yoni massage?
There are very good reasons to choose a practitioner of the opposite gender. The physical and psychological differences between men and women can be used to achieve a more complete healing, opening, and elevating experience.
Your practitioner will enter into a state of samyama with you – an intense focus and identification, enabling the practitioner to pick up on your most subtle non-verbal cues. This merging at the level of the mind and emotions allows for the same profound blending of energies that Tantrics seek in their rituals.
The yang (action-oriented, emissive) masculine energy merges with the yin (receptive, responsive) feminine energy, which balances and harmonises your mind and emotions at the same time as we rebalance your physical body.
Some women, particularly those who have suffered sexual assault by a male perpetrator, prefer to start exploring yoni massage with a female practitioner. They can progress to working with a male practitioner after the original trauma has begun to heal.
Why do you recommend a minimum of three sessions?
Depending on the level of tension in the body, and any pre-existing sexual trauma, it can take some time to become fully prepared for the deep stage of the yoni massage. It is never a good idea to push the body or psyche somewhere it is not ready to go. In my experience, taking time to integrate between sessions is also an important part of the process. Most women reach a good level of comfort, security and readiness for the more intense stages of the yoni massage within three sessions. Healing takes time and usually does not happen immediately.
I was abused as a child, and still have a lot of fear around sexual touch. How can possibly have a yoni massage?
Many women, unfortunately, have had sexual trauma in their childhood. What I can say, in general, is that many women have found the safe, non-sexual space of a yoni massage to be an ideal space for healing sexual trauma. If you have reached the stage where yoni massage could be of benefit to you, we would progress very slowly, and take special care and precautions to ensure that your "inner child" feels safe and supported. Please contact me to discuss the specifics of your situation
If this is not sexual, why do you only massage women?
Based on my training to date, I offer men external full-body de-armouring massage, but not genital or internal massage. Many practitioners, both men and women, work with both genders. The equivalent of a yoni massage for a man would be a lingam massage, and may also include release points which are accessed through the anus.
What My Yoni Massage Clients Have to Say
Steffo is a pedagogic Tantra Teacher, with solid education and experience. Which is noticeable in his presence and professionalism, where he radiates safeness and calm, and knows what he is talking about.
With Steffo as my guide, I was completely confident and trusting.
He is very reassuring and fully present in his work.
During our three sessions, I came in better contact and connection with my body, my beliefs, sensations and feelings.
I also had clear communication with consciousness and the throb of the universe.
I had powerful revelations and wonderfully, there was healing.
Instead of arriving at some finish line, I realize this is a part of my journey toward knowing and loving myself.
I was seeking assistance and did not even know of this practice.
It is beautiful how precisely the universe will bring us what we pray for.
I have immense love and gratitude for Steffo and his path, I wish him all the joy his heart can hold.
Thank you, Steffo, I am sending you love.
I just need to share that I've gone for a professional yoni massage twice now (have one more to go),
AND ITS BEEN LITERALLY ROCKING MY WORLD.
I knew already that as women we have an amazing body that apparently can experience so many different things but…
The female body never ceases to amaze me!! 😀
And my vagina just feels amazing now!
She is so relaxed (I didn't even know she was tense!!) and smiling, and blissed out, and she is more in tune with what she wants/doesn't want.
I wish every woman around the world could experience this!!
I'm so vagina curious right now. Did you know we don't only have a G-spot but also an A, and K-spot? 😉
If you are curious but are hesitating, just take the leap and do it!
Steffo Is a wonderful (hu)man being,
who makes you feel safe and who has the gift of holding a really good space for you, whatever comes up.
I highly recommend doing a session with Steffo! He has a gentle & knowledgeable presence & really makes you feel safe & held.
His touch & his focus on you allows you to let go into your own experience & pleasure.
I first went for an abdominal de-armoring massage & had a good experience with it & realized I felt comfortable trying the Yoni massage.
I'm so glad I did!
What a unique & beautiful experience.
It felt so freeing, awakening, & releasing.
I had a lot of kalas & felt incredible afterwards.
So much more alive in my own body & energy field & the world.
It is truly a healing & harmonizing experience…

Steffo does a fantastic job of holding the space during these sessions.
I felt very safe and comfortable and was able to release what I think was years worth of shame and guilt that I had tied to my sexuality.
This was a very healing process for me and I am so grateful!
Steffo heals through pleasure.
I had 3 beautiful yoni massage sessions with him a month ago. I am still feeling the effects, as more energy runs through my body and healing happens effortlessly.
I feel very connected to my womb and my entire body, like it speaks to me and guides me.
I would recommend these sessions to every woman, as Steffo hold a very safe, sacred space for us women.
Gratitude!
I can recommend a tantric experience session with Steffo. I felt my pussy in new different ways and was guided safe and nice to bring my divine feminine out in her dance of everything. Steffo is a beautiful, safe and clean support for your inner discovery of your own sexuality. Go there!
Yoni massage alternative you might be interested in: