The undeniable truth about marriage is that sometimes sex dries up, and there comes a time to spice up the bedroom.
When this happens, we can experience intense feelings of guilt, shame, self-blame, and uncertainty. Luckily, there are many things that any man or woman can do to spice up the bedroom and reignite the fire.
If you are wondering where the passion in your marriage went, read on. I will share with you 16 fun ideas to spice up the bedroom and bring the excitement back to your relationship.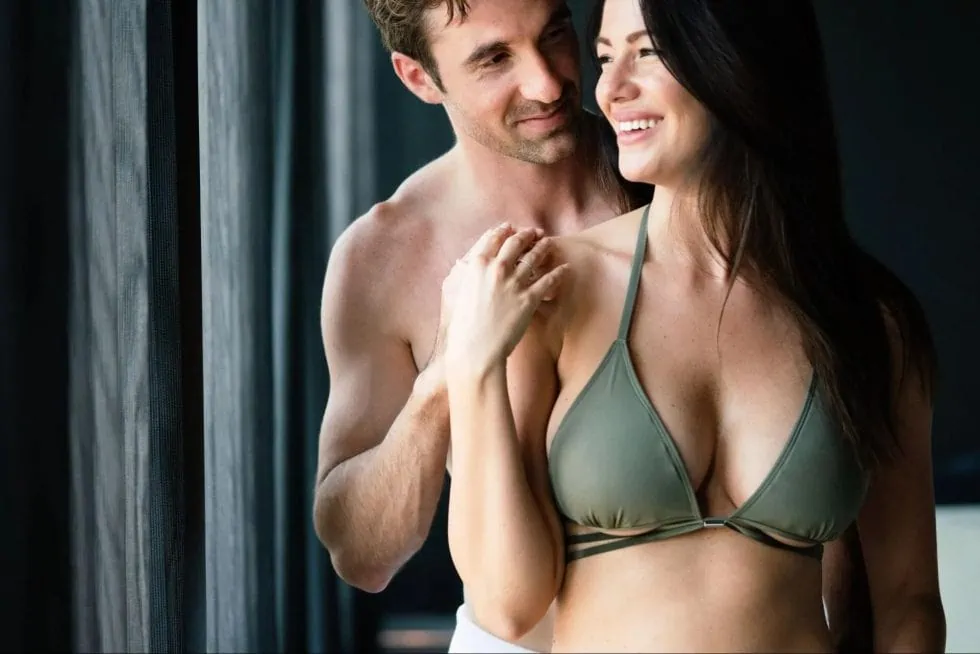 Things a woman can do to spice up the bedroom
1. Pre-sex Shakti yoga flow
Shakti in Sanskrit means power, energy, or force. It's the divine feminine energy of the universe— although this magnificent force does transcend gender. Activating the Shakti energy within will help you to feel confident, sexy, and present, which is the perfect way to spice up your sex life.
2. Lingam massage
A lingam (penis) massage will help to activate your man's sexual energy. It also helps with semen retention to make the fun last longer. Lingam is a Sanskrit term that implies that the penis is sacred— so this is no basic handjob.
Spice up your sex life by being sexually adventurous, and no doubt he'll be a big fan of this erotic massage. By mixing things up, especially as the woman in the relationship, your partner will find this sexy dominance difficult to forget!
–> Watch my video to learn how to perform a lingam massage.

Lingam Yoga: Natural Penis Enlargement Course
Increase the power, stamina, and size of your lingam in a proven way with this unique, esoteric, and natural penis enhancement online course.
3. Take control
Is there a new position or something on your sex bucket list you have always wanted to try? Or you've never had sex in the shower but want to give it a go?
Society conditions men to take the lead in the bedroom, so you can make things exciting by putting yourself in the driver's seat for a night. Be naughty and bold— order him around to focus on your own pleasure.
This is a fantastic way to spice up your sex life in long-term relationships.
4. Bring in the sex toys
Having a sex toy or two in the mix can bring so much fun and sexual satisfaction to the experience. Sex positions that didn't elicit much sensation in your body can suddenly become mutually pleasurable with a vibrator or bullet. Of course, ensure that the sex toys are premium quality and body safe.
Your new sex toy can also become a fun game. Get your partner to tease you with it and let yourself surrender to pleasure.
5. Masturbate in front of him
Not only do men find women masturbating incredibly arousing, but it's also a fantastic way to spice up your sex life by building sexual tension. First, tell him that he can't touch you until you make yourself cum. Then, lock eyes with your partner as you pleasure your center. Your long-term relationship will feel fresh out of the box.

Lingam Yoga: Natural Penis Enlargement Course
Increase the power, stamina, and size of your lingam in a proven way with this unique, esoteric, and natural penis enhancement online course.
What can a man do to spice up the bedroom?
6. Pre-sex Shiva yoga flow
Shiva is the divine masculine energy of the universe and can bring a man great inner strength and spaciousness. Practicing these tantra yoga poses for men will bring out your inner qualities of power, generosity, compassion, and complete presence.
A fun sex life starts with both partners living their lives to the fullest. So, if both people constantly evolve for the better, you'll perceive the same partner as hot, intriguing, and exciting.
7. Yoni massage
A yoni (pussy) massage is all about giving. The magic of the yoni massage is that it doesn't involve anything from the woman. When a woman knows that absolutely nothing is expected of her, she can totally release into her pleasure. You will see and experience your woman in a way you never have.
This intimate massage is a powerful way to connect spiritually, emotionally, and physically. Here's my yoni massage guide to gift her a sensual healing experience.
8. Talk dirty
If you want to ignite incredible tension with your lover, it's time to invite dirty talk into your love life.
Sexual communication keeps things exciting and awakens her sexual fantasies. Your words have the power to make her want to pin you down to the bed and crave your touch. However, dirty talk is a skill, so we've created a guide on how to talk dirty to your girlfriend.
9. Set the mood
The benefits of setting the mood as the man are countless. Men often let the woman set up the space. That's why it's so sexy for you to take the time to honor your union by creating a sacred love nest.
Some things to consider include:
Scented candles or diffuser
A hot and heavy sex playlist
Clean, crisp bedding
Foods such as cream or honey to lick off each other
A healthy sex life involves both people taking time to invest in ways to spice things up. Even though it takes relatively little effort, mood setting is an act of prioritizing your sex life. You can follow this with sex positions designed for her pleasure.
10. Take it slooooow
Sometimes getting out of a rut just needs changing the tempo. And slowing things down electrifies each kiss and magnifies every caress.
Spice up your sex life by taking time to peel off each other's clothes piece by piece and let your partner feel how attractive you find them in this moment.
It might sound boring to say, "just slow things down." But when the man finds deeper penetration through slow, rhythmic thrusts, you'll experience just how hot it is to dip into a more leisurely pace.
On a connection level, this pace allows for more creativity and authenticity. There are no fancy techniques or shows of athleticism. Just two bodies intimately intertwined, slowly building tension to new levels. Add in these sex positions to drive a woman crazy, and just see how hot the night becomes.
How do I bring excitement back to the bedroom?
11. Play with temperature
Temperature play is such an erotic way to keep things interesting. It works by provoking arousal using the skin's neuroreceptors.
As Paisley Gilmour writes:
"Stimulation through heat or cold gives the body a rush of sensations that, during foreplay, is translated into arousal. Temperature play is especially fun for the receiver when hot and cold are combined together in unpredictable patterns."
Cold: Think ice cubes, strawberries, ice cream, whipped cream
Hot: Sex candles, melted chocolate, edible oil, warmed honey
Also, you can use stainless steel sex toys for hot or cold use. Rest them in cool or warm water for a minute. It's important to check in with your partner during temperature play consistently. You want to spice things up and not head to the hospital with burns!
12. Blindfolds
Shutting down such a powerful sense during sex creates a whole new level of mystery in your sex life.
When one partner is blindfolded, the other is free to explore their lover's body. Playing with oral sex is a fun activity to partake in during this time. A sex position that once seemed predictable feels new and fun once more.
13. Eye gazing
Moving on from temporarily removing the sense of sight— now try out intensifying your gaze.
Eye gazing is an age-old practice in Tantra, and for a good reason.
I am sure you have seen your spouse before, but have you seen into them – into their core?
After all, the eyes are the gateway to the soul.
Eye-gazing is wonderfully simple but very powerful.
Few words can describe the beauty of this practice. Afterward, you will feel much closer to your spouse. Try eye gaze for ten minutes or even less, and see how this practice opens the door for intimate, loving, and passionate sexual experiences.
Better sex starts with a deep, moving connection. You have to feel close, connected, and safe with your partner. That's where eye gazing keeps things hot.
Explore eye gazing in a couples' tantric meditation before sex, or you can play with deep, sensual gazes throughout the night. Be prepared for a deeply spiritual and sexual connection to your partner.
14. Honest and vulnerable communication
Closely linked to number two is honest and vulnerable communication.
With the rise in popularity of speakers like Brene Brown, vulnerability is becoming a hot topic. It can also improve our sex lives.
Why? Vulnerability makes sex so much better. Such openness requires we take down all barriers and present ourselves with authenticity and integrity.
When communicating inside of a marriage, we need to drop the masks, pretenses, and projections.
These create false ideas about who we are and who we should be. By being honest in your communication, you're setting up a space for your partner to truly meet, love, and accept you.
In practical terms, the next time you feel triggered emotionally by something your partner did or said, discuss it with them instead of ignoring it. For example, discuss new positions you'd love to try or a sex position that turned you on.
Ignoring a problem will only build resentment and create distance.
Difficult conversations are usually worth having and almost always lead to more emotional closeness. This emotional closeness is a precursor to great sex but so often gets eroded by the daily monotony of marriage.
You could choose to have an honest and open conversation about the turn your sex life has taken. As long as you both conceive of it correctly and don't become defensive, it can be an extraordinary chance to grow and move forward together.
15. BDSM and power play
Playing with surrender and control is often a very erotic, sexy surprise for couples. What's more, it can also be highly therapeutic. In addition, this kind of interaction builds trust and mutual understanding due to the amount of communication required.
If this is completely unchartered territory, you can start by experimenting by simply using rope or a pair of handcuffs.
Many women are hard-working and driven, operating from their masculine to thrive at work and climb the career ladder. They then carry this same masculine energy into their home and their relationship.
Of all the things a woman can do to spice up the bedroom, surrendering control in this way and fully trusting in the masculine is the most likely to drive her and her man crazy.

Lingam Yoga: Natural Penis Enlargement Course
Increase the power, stamina, and size of your lingam in a proven way with this unique, esoteric, and natural penis enhancement online course.
16. Tantric de-armorizing massage
Tantric de-armorizing massage is a holistic bodywork practice in which you'll apply deep pressure to each other's bodies. Breathwork and intense body awareness are also involved.
I've included this step in this guide to spice up the bedroom because it releases trapped memories and feelings. This liberation allows you to recreate the sex life that you both want. Clear away old patterns for both partners, and you can both feel present and free in your sex life.
Watch this video to learn exactly how to perform this powerful massage:
From raunchy lovers to bickering roommates
Are you reasonably happily married, love your spouse dearly but occasionally wonder where the spark went?
Maybe you find yourself returning home from a long day at work to a husband or wife who irritates you. You feel aggravated and annoyed simply by their presence. Yet, at the same time, you can't even put your finger on what they have done or are doing that annoys you SO much.
Things never used to be like this.
You used to chase each other around the house naked, f*cking like rabbits. You used to see and feel the lust in your spouse's eyes as they sat on the barstool beside you. Then, mentally undressing each other, you couldn't wait to get home, devour, and be devoured.
Now, you're both unshowered, exasperated, and emotionally exhausted. Bickering about the dishwasher, or the trash, has become the norm. You knew marriage wasn't going to be plain sailing.
However, nobody told you it would be like this.
The trap of self-blame, shame, and guilt
Heartbreakingly and embarrassingly, there is now very little sex.
You are sometimes left looking in the mirror (literally or metaphorically), wondering what is wrong with you.
Why do they no longer look at me with the same eyes or want to touch me in the same way anymore? You blame yourself. You criticize your physical appearance for not being attractive enough.
Maybe it's your weight.
Maybe it's your hair.
Maybe they don't like how you have been dressing recently.
You can count the number of times you made love in the last six months on the one hand. But, on the other hand, you fall into the trap of comparing yourself to others you consider to be better looking than you:
"If only I looked like him/her, maybe my husband/wife would find me sexy again. Maybe we would have a better marriage. Maybe we would be happy…."
You don't want to become just another divorce statistic.
The truth is you once truly loved this person.
You decided to devote your lives to each other, for better or worse. You can so poignantly remember the look on their face and the burning emotion inside of your heart as you stood by one another exchanging vows. Nobody told you that your relationship would be like that of two bickering siblings a little later down the line.
Why sex inside of a marriage can lose its heat or disappear completely
Many married couples find themselves in this situation once they have been married for one or two years. Throughout the entirety of the marriage, it is very typical for sex and attraction to fluctuate. Hormones and the ebb and flow of life have a part to play here.
The deception of the honeymoon period
Things can't always stay as they were when you first met your spouse.
During the 'honeymoon' period of a relationship, you see them through rose-tinted goggles. The brain is awash with chemicals that are quite literally tainting your vision.
During the honeymoon phase, you live in a hazy love bubble of serotonin, dopamine, and oxytocin. As a result, it's common to be besotted by and obsessed with your partner.
Despite their shortcomings and flaws, they can do almost no wrong. Serotonin and sexual desire are linked, so you tend to have more sex during the honeymoon period. It is a biological and natural phenomenon that dies down when the honeymoon period ends – which it always does.
During the honeymoon period of a relationship, increased adrenaline production stresses the body.
Ever been newly in love and felt like you just stuck your finger inside an electric socket and flipped 'on'?
When newly in love, you are under the influence of powerful chemicals and high!
So high that sustaining this state forever would be exhausting for the body. And so the honeymoon period always inevitably ends.
The rose-tinted chemical goggles come off, and cracks appear in the relationship. You'll start seeing your spouse's flaws, and the sex may taper off.
How children, life stressors, and work can get in the way of spicing up the bedroom
When you factor in things like children, stressful careers, mortgages, and complex family lives into the equation, it's no wonder we can sometimes be left wondering where the passion went.
Life is inherently stressful.
Sh*t happens, and we become stressed.
When stress levels are high, the sex drive goes down. Combine this with the natural hormone drop after the honeymoon period ends, and you have a prevalent scenario for married couples.
One of the worst things about this situation is how much you might struggle to ever voice any of it to your spouse or friends. Instead, we feel shame or guilt or embarrassment, or all three.
When you do get down to having sex, it is usually only one of you who is really into it. The other is just going along with it, not to hurt the other's feelings. Even if they are not consciously aware, the other person will feel it on some level. The rift will widen and, unfortunately, enter even murkier waters.
Sex can be wild and racy, but it can also be deeply spiritual and a bonding experience for a couple. On the other hand, if there is sparse or poor quality sex in a marriage, it can drive a wedge between two people.
When external factors subsequently place stress on the marriage, the strong bond required to make it through is often not there. When a marriage is sexless, it enters extremely rocky territory and can dissolve altogether.
Conclusion
Let's not jump to conclusions or make assumptions when a marriage seems to be losing its original spark. Instead, understand that this is an entirely natural process that most married couples go through. The crux point is how you react to it as a couple.
You can always do things to spice up the bedroom – the four ideas in this article are just a starting point. You might also be keen on reading about 25 hot bedroom ideas for sexy dating and married couples.
If you are reading this article now, I would assume that something in your sex life or marriage feels a little off. However, if you are a man and you are intrigued by the ideas I have shared above, you might want to check out my free training for men in relationships.
In the masterclass, I go into more depth on reigniting spark and passion within your marriage while remaining true to yourself. When you take my masterclass, I will give you the tools you need to make your confidence soar and your relationship thrive. Not only will you learn how to spice things up in the bedroom, but you will also learn how to build a harmonious, spiritual, and profoundly fulfilling coexistence.
If you are a woman reading this article – you might want to point your husband in the direction of the masterclass.
I believe all love should be cherished, savored, and given a chance not just to survive – but thrive. Don't you?
FAQs
What does a sexless marriage do to a man?
A man can live in a sexless marriage. However, it's not uncommon for mental health issues to arise. A man might also feel anxious or even depressed if he feels unable to perform well enough in bed to satisfy his wife's sexual needs. Therefore, it is wise to analyze whether the absence of a sex life will impact your overall health.
What lack of intimacy does to a woman?
A woman can often suffer from feelings of loneliness, resentment, guilt, rejection, inadequacy, as well as self-confidence and body-esteem issues in a u003ca class=u0022wpil_keyword_linku0022 href=u0022https://tantricacademy.com/how-to-revive-your-sexless-relationship/u0022 title=u0022sexless relationshipu0022 data-wpil-keyword-link=u0022linkedu0022u003esexless relationshipu003c/au003e. The lack of any sex life can augment these feelings and leave her trapped in a sexual avoidance cycle.
How can I spice up my sexless marriage?
To spice up the bedroom, working on openness and connection in the relationship is crucial. On top of that, fun cannot be underestimated in its ability to heal and bring partners closer. So combining connection and fun is a powerful way to reignite your marriage's sex life. In addition, if you're both feeling wound up around sex, these sex positions help reduce stress and anxiety.
How often should a wife please her husband?
"Should" is not a word we like to use at Tantric Academy as it implies pressure and love-making is best shared with pleasurable giving and receiving. Also, no husband wishes to experience sex and intimacy the same way. If you're learning to be present during love with your husband, perhaps consider seeing a certified sex therapist.
At what age do married couples stop being intimate?
There is absolutely no age limit on hot, steamy sex. Sex lives do not have an expiry date, and contrary to popular belief, libido doesn't have to decrease with age as long as you master your sexual energy.

Lingam Yoga: Natural Penis Enlargement Course
Increase the power, stamina, and size of your lingam in a proven way with this unique, esoteric, and natural penis enhancement online course.