Sex tips for men on how to fuck?
You'll be leaving this article with that and a whole lot more.
I'll be honest with you — all the sexual techniques in the world won't have your woman opening her thighs the minute you walk in the door. Not unless you open her heart, and feminine power too.
I've created these tips for you to open her pleasure centers. I'll walk you through not only how to have sex but how to build sexual tension, foreplay suggestions, sex positions, and sexual aftercare. I'll also share Tantric connection practices to blow her away.
How to be great in bed?
Humans naturally want to be great in bed. As a man, you walk taller in the world, knowing that you are more than capable of satisfying your partner.
So, how do you get there?
Well, moving into deeper states of connection together is an important start.
Then, it's time to focus on the sex arc. Sex doesn't just happen. There's a build-up phase, a peak, and a delicious come-down. Support yourself and your woman through this is going to make the most significant difference. This only goes to show that sex is a practice and not a performance.
What really turns most women on?
Sexual satisfaction and how to turn a woman on is not an enigma. And any man who says that women don't have as big a sex drive or ability to orgasm as men are ignorant of a woman's enormous capacity for pleasure.
Women are turned on by intimacy, by feeling desired, and through the feeling of close unity through physical pleasure. Also, women are turned on by novel, wild, adventurous experiences. Orchestrate memorable experiences for her, in and out of the bedroom, and her affection and intrigue for you will thrive.
These sex tips for men will lead to not just good sex but great sex with intense sexual pleasure, orgasm control, and a deep, hot connection to your partner.
What are the best sex tips for men?
Study the woman in your life. What is her feminine essence?
What conditions need to be in place for her to get in the mood?
There are some elements of passion that many women enjoy. Many, for example, find that having the nape of their necks caressed is extremely erotic. On the other hand, some women have sensitive backs that will shiver and arch under your touch.
The truth: a frequent sex life helps you to tune into her body, preferences, and unique flavor.
On top of that, we'll take you through 13 steps, each with plenty of expert advice that will give you the techniques and understanding to love your woman thoroughly.
Sex tips for men: before sex
1. Buy sex toys and lingerie together
And do some sexy research together while you're at it. Learn what your partner loves and how you can increase her self-esteem.
2. Try jelqing
Learn how to jelq! Jelqing is an ancient practice to naturally increase penis size, girth, and length. Gain a positive and intimate connection between genitals and heart to integrate your sexuality and emotions.
3. Release sexpectations
If your partner is expecting every show of intimacy to turn into sex, she mightn't want you touching her at all. Instead, show her you enjoy touching her without it always having to lead to the bedroom.
4. Celebrate your woman
Men, you need to appreciate her femininity! Stroke the parts of her she may find unfavorable. Lavish kind, loving, and erotic words often so she knows she's safe, loved, and adored in your eyes.
5. Praise her
Women's bodies are constantly under scrutiny, and as her man, you need to seriously counteract that by adorning her whole being with praise and love.
6. Create a bedside sex kit
And no, we're not just talking about condoms. Have a host of sexual accessories at the ready — lube, vibrating cock ring, wrist cuffs, washcloth.
Help your woman unwind
7. Move her out of tension
Sexual play cannot start if your partner is very stressed. So why not create a relaxing environment, and help with her workload so she can release into pleasure.
8. Get her in a playful mood
Tickle her, have a snorting with laughter. Be fun and silly. Remember: play is pleasurable too. It's not just lusty stares and dirty talk that can get her in the mood.
9. Remove excess distractions from life
Learn what helps her to wind down. A bath? A massage? Cuddles? Do that.
Prepare the space
You don't want to create just a satisfying sexual encounter.
Seriously, start putting sex as a priority and watch your healthy sex life have you both beaming.
Setting the scene leads to better sex overall and involves being thoughtful and thorough — not something that will go unnoticed by your partner. So instead of initiating sex with a hot kiss — watch her reaction when she steps into your revamped love nest.
10. Comfortable temperature
Women naturally have a higher body temperature, so crank up the heating if it's chilly outside. This might not feel like it should be the number one tip on setting a space but being too cold, and less so too hot, can make it far trickier to get in the mood.
11. Lighting
Keep it low but not so dark that you can't see each other's bodies. Use warm lights, preferably candles and floor lamps. Soft, red hues bring a sensual touch to bedroom sex.
12. Scents
Fill the space with her favorite scent. You can use a scented candle, incense sticks, diffuse an essential oil, or even a fresh bouquet. Check once you've set up the space that the scent is noticeable but not overwhelming.
13. Create softness
Luxurious throws, and plump cushions are paramount here. Bonus tip: set the scene down on the floor. Floor sex feels more raw and adds a new element to sex lives.
14. Sensual music
Music and sex have long played an integral part in our culture. According to neuropsychologist Dr. Rhonda Freeman, music directly affects the pleasure, bonding, and limbic systems of the brain.
Foreplay
Out of all the sex tips for men — foreplay is where I'd encourage you to pay extra attention.
This is what's creating the orgasm gap between men and women. Even though that's not the goal of sex, it's important to be delivering sexual satisfaction to your woman in bed.
Foreplay is where you can light up her nerve endings. While some prefer internal stimulation, most women require clitoral stimulation to cum. Again, some prefer intense sensations, while others won't want too much pressure and prefer a lighter touch.
So, here's how to amp up your sex life and feel the thrill of witnessing your woman fall over the edge:
15. Nipple stimulation
Use circling and light touches around her areolas. Take it slow, and let one hand wander to her back, neck, and hips after a while. Finally, if she's not too sensitive, rub or gently pinch her nipples. Women can even reach nipple orgasm with enough practice!
16. Sex toys
Use toys all over her body, not just between her legs, and watch her shiver in pleasure. You'll be surprised where some of her erogenous zones lie.
17. Heat things up
Try sex candles and use warm (not hot!) wax on each other's bodies or even warming lube to create an irresistible wave of pleasure.
Tease
Teasing ramps up the attraction tenfold. Here's how to get things hot and heavy through the art of teasing.
18. Try NOT kissing
Although kissing is often one of the biggest turn-ons, the absence of it can create a whole new spice for both you and your lover. Instead, allow your lips to nearly touch before drawing away and even giving her a cheeky smile.
19. Find a dizzying rhythm and PAUSE
Find a rhythm of pleasure that she is melting into and then — stop. Leave her to linger in need and anticipation, even order her to do or say something before you start back up again.
20. Stay away from her yoni as long as possible
Wait until her blood is racing, until she begs you to touch her. Focusing on her other pleasure centers first is vital.
21. Spoiling session
Set aside allotted time for each person to sexually spoil their partner, doing whatever they want to them as long as it's in the recipient's realm of comfort.
Build the fire
With these sex tips for men, you'll learn how to satisfy your woman in bed and have her moaning for more!
22. Take full charge over her pleasure
Treat it like the most important job you've ever had. Try out new things and don't out too much pressure on it to all go smoothly. Sex is choreographed it's real — use any awkward moments to laugh and bond.
23. Learn about the two forms of pleasure
Anticipatory pleasure is experienced in anticipation of something we want, whereas
Consummatory pleasure happens when you actually get what you've been craving.
Explore all her potential pleasure centers but again don't forget to tease!
24. Get kinky!
Once the foreplay begins, keep her on her toes. Perhaps you kiss her til she's panting, so she barely notices you've tied her wrists together.
25. Own your sexual preferences
Being open with how you like to be touched will allow her to be more assertive on how to carress her to achieve orgasm. Neither of you is a mind reader — and although silent sex seems endlessly erotic on the screen, conscious communication is the key to better sex.
26. Food sex
Sex and food go hand in hand for sensory pleasure, so invite melted chocolate, whipped cream, and honey into your sex life.
WATCH FREE TRAINING NOW
Boost your confidence, master your sexuality, and find your purpose.

So you can reignite the passion in your relationship or attract your perfect woman.

Sexual fantasies
Open up the hot conversation about what your partner thinks when she masturbates — share some of your own.
It can be daunting to start with, but your sexual fantasies are often far less "out there" than you probably thought.
Just look at this sexual fantasy research explored by Healthline:
"After conducting a 4,000+ person, 350 question survey in 2018, internationally recognized sex educator Justin Lehmiller, Ph.D., concluded that there are 7 main fantasy themes."
Here we share what these common fantasies are and how to weave them into your sex life:
27. Multi-partner sex
Talk your woman through how a woman is going down on her. Or enact an orgy and allow your imaginations to make you both throb and moan in ecstasy.
28. Power, control, or rough sex
BDSM holds a broad range of sexual activities from spanking, wax, bondage, sensory deprivation, and so much more. Set ground rules to ensure safe, sane, and consensual sex.
29. Novelty, adventure, and variety
Novelty gives an adrenaline thrill that keeps sex exciting and adventurous.
30. Consensual non-monogamy
Although most couples thrive in their relationship, sexual fantasies of non-monogamy mean you can both enjoy the sinful pleasure of crossing boundaries in the relationship while enjoying your sexual connection all the more.
31. Passion and romance
Sexual desire often starts with BEING and FEELING desired. So lavish your loved one with romantic gestures and loving words — make her feel like the most important person to you.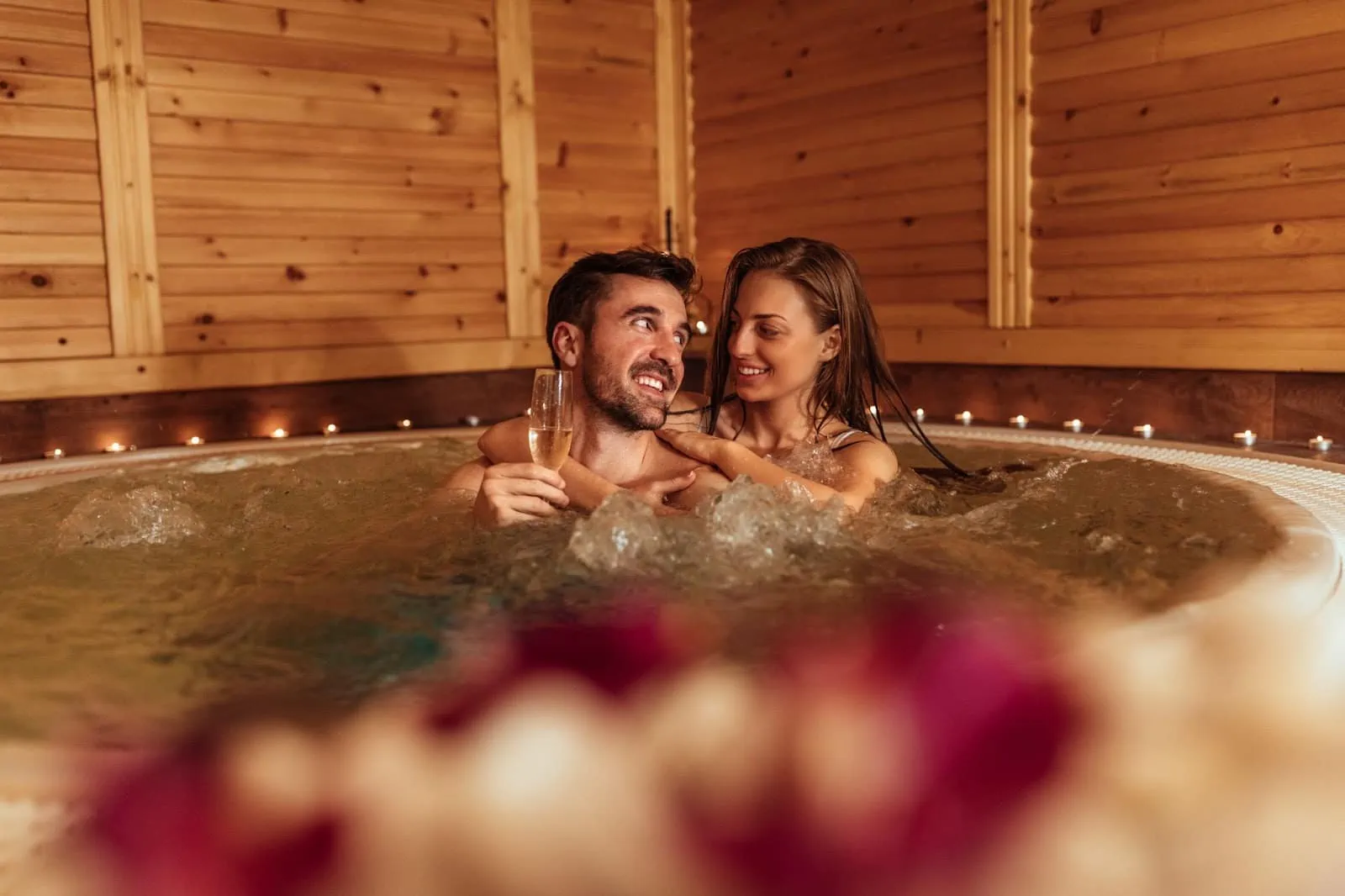 32. Taboo and forbidden sex
What are the deep, dirty sexual fantasies that your woman enjoys? Make them come to life, and she'll see you in a new, sultry light.
33. Erotic flexibility
Explore playing different roles and personas in your sex life. This freedom feels fun, creative and liberating for many couples.
Tantric connection
Tantric sex is a way of making sex more meaningful. It turns something that could just be rubbing genitals to get off into a powerhouse of intimacy, connection, and even spiritual transcendence. Here are a few practices to amplify a sex session and build more pleasure in your partner's whole body.
34. Eye gazing
After a few minutes of soul gazing, you will relax and get into a place of even more profound connection and intimacy with your partner.
35. Couples tantric meditation
The silent, sexual communication of couples tantric meditation is so powerful in a world filled with noise.
36. Create a circuit
Both of you place your left hand on your heart and your right on each other. Delve into the love and affection both of you hold for the other while connecting with your own body and breath. Forging a grounded connection leads to longer sex sessions and intense orgasms.
37. Yoni massage
Learn the ancient tantric art of the yoni massage.
38. Lingam massage
A ligma massage ot just your average hand job, learn the steps of a lingam massage to teach your lover.
39. Experiment with edging
Tantric sex favors the pleasure journey rather than racing to the finish line. Other pleasure centers exist beyond the obvious so get creative!
40. Explore yab-yum
Align both your chakras', breathe your partner's breath and create a profound sense of intimacy.
Epic sex tips for men
Here are the tips to forget all about performance-based sex and do away with unsatisfactory sex once and for all.
41. Oral sex
Take time to part her legs, and make eye contact before gently teasing her clit. Going down on your woman is far more about tuning into how her body reacts to each touch than technique.
42. Squirting
Learn how to make her squirt for instense cervical stimulation and an explosive g-spot orgasm.
43. Engage the swirl technique
Play with circular motions with the tip of the tongue when going down on her yoni.
44. Talk dirty
Want to learn how to talk dirty? That's a whole 'nother article in itself; fortunately, we have it. With these tips, your partner will experience a shiver when she hears what you have to whisper in her ear.
45. Male g-spot orgasm
Don't forget about your pleasure and that penile orgasms are not the only way to go.
46. Energy orgasm
Gift your woman an energy orgasm. This incredible experience will light up her five bodies (koshas in Sanskrit) to create a spiritual, ecstatic experience for her. Women are usually more connected to the emotional body and use more of their right-brain hemisphere, which makes giving her an energy orgasm more achievable.
47. Let her take charge
When was the last time you let your woman do whatever she wanted to you in the bedroom? Trust her intuitive feminine sexual energy to guide your masculine.
48. Mutual masturbation
Explore the spiciness of outercourse, and don't forget about dirty talk.
49. Encourage her to moan and communicate
Tell her what it does to you to hear her moan your name during sex or tell you exactly where she wants your c*ck. (It's also a nice little ego boost for you!).
New spicy sex positions
You could learn how to fuck.
OR
Move away from standard penetrative sex and invite sex poses, connection, and intention that create such intense orgasms for you both.
50. Prone bone
Lie your partner on her front and enter from behind. Prone bone pose provides a tight fit for you and g-spot stimulation for her.
51. The padlock
Fulfill her desires by scooping her up on the kitchen counter and pulling her in close for deep penetration.
Diagram courtesy of Cayman, Sadie. Kama Sutra: The Book of Sex Positions
52. Splitting bamboo
She lays back and raises one leg as you straddle her lowered leg. Ease into her and find a slow, sensual rhythm.
Diagram courtesy of Cayman, Sadie. Kama Sutra: The Book of Sex Positions
53. The Catherine Wheel
Sit facing each other, then take one ankle behind her torso, one in front. Your lover brings both ankles around your back as you dive into connection. This sex position is excellent for passionate gazes and also works for anal.
Diagram courtesy of Cayman, Sadie. Kama Sutra: The Book of Sex Positions
54. The Plough
Stamina is needed for this twist on doggy style. This position is an animalistic pleasure, especially as you grab her hips to thrust.
Diagram courtesy of Cayman, Sadie. Kama Sutra: The Book of Sex Positions
55. Crouching kneel
For extreme closeness and full body contact, kneel facing each other and enjoy her body ripple and undulate. Keep your legs together while your partner straddles them, allowing for penetration.
Diagram courtesy of Cayman, Sadie. Kama Sutra: The Book of Sex Positions
56. Rocking horse
Sit down with arms supporting you as your partner takes full reign. Enjoy her taking control, and watch her build clitoral pleasure in this pose as you pleasure her nipples.
Diagram courtesy of Cayman, Sadie. Kama Sutra: The Book of Sex Positions
Aftercare
It mightn't sound super hot to you, but great sex is made even better with sexual aftercare.
57. Cuddles
Why bother with cuddling after sex? After sex, our bodies as humans are flooded with oxytocin. According to Harvard Health Publishing, oxytocin, also known as the love hormone, is released through the simple act of touch.
"Giving someone a massage, cuddling, making love, or giving someone a hug leads to higher levels of this hormone and a greater sense of well-being."
Women can sometimes feel vulnerable after sex, and inviting them into your arms' safety helps them feel connected and relaxed after sex.
58. Emotional check-in
According to a sex therapist, Leigh Norén, sex can be emotional as it makes you feel connected to your partner and yourself.
"Parts you thought you'd perhaps never experience again start to come alive. The sexual side of your identity, your self-confidence, and your self-esteem is renewed. You experience that mind-body connection that makes you feel energized, happy and content."
Nurture all the different types of connection going on — and find out what really turned her on during sex. Showing eagerness to pleasure her is a deep sign of care and balance in a relationship.
59. Food and rehydration
This sounds simple, but the best sex is better when you're both nurtured afterward. Get her favorite tea and whatever she wants to bite into so that you're both totally at ease after your steamy shower.
60. Showering
Showering together is a wonderful way to look after your lover after sex. You can lather soap all over her body and massage her scalp — let her melt into you after the intense experience.
Practices to become a conscious lover
You can't put too much real estate into being an incredible partner. Sex is a bonding ritual, so the deeper the connection, the deeper the pleasure!
61. Write down lover gratitudes
Realize all your woman gives you. Be aware of how much she means to you, how much you enjoy pleasuring her, and how much pleasure she brings you. Sex advice can often feel hollow. But the marrow of sex lies in the care and affection you hold for your partner.
62. Support her in all situations
Being a team outside the bedroom instills her with a sense of security and support. That trust is what makes magic in the bedroom.
63. See her point of view
A sign of a mature and extraordinary relationship is one where both partners actually listen and seek to understand their other half's perspective.
64. Conscious love
Try your best to be nonjudgmental, understand each other, and be compassionate toward each other. Believe me: conscious love is rare to find in the majority of relationships.
Boost your masculine energy
Women in the seat of their powerful feminine energy find themselves drawn to masculine energy and traits — strength, courage, independence, and assertiveness. Enhance your masculinity through these steps:
65. Tantra yoga
Delve into the potency of this ancient practice to build stamina and resiliency and cultivate your masculine energy.
66. Boost your testosterone
Become one of the 3% as you learn to become a multi-orgasmic man.
67. Being part of a men's community
Step into your masculine energy by regularly meeting up with a group of men. Feminine and masculine energy are poles; one attracts the other.
The more potent your masculine energy, the more she will lean back into her feminine. This leads to a far more erotic sex life that burns bright with longevity.
68. Quit porn
Why spend your time watching porn when you could be making it instead? Instead, watch porn if you want to reduce your sexual prowess. Here's to how to quit porn with Tantra.
69. Find your purpose
Nothing's sexier to a woman than having a partner who has dive, vision and knows what is meaningful to him.
Conclusion
So, there you have: the top 69 sex tips for men. We've taken you from building up the tension, foreplay techniques, tantric connection practices as well as advice on how to make a truly unforgettable experience for you woman as you connect in the most intimate of ways.
But is that all?
No — it's merely the surface. These tools will offer plenty of opportunity to get started, but a far deeper, more fulfilling approach needs to be taken by a man for him to become a truly enigmatic lover.
As an experienced relationship and sex coach, I've had countless clients approach me on day one, seeking to attain the best sex with their partners. And I've refined all I've learned to give you the key to becoming a conscious man in this free training. Learn how to become a king in the bedroom, and give you the power to improve every aspect of your love life.
FAQs
How do I give my woman better sex?
Spend time during foreplay to get her "in the moment." With this sex tip, not only will her mind be completely focused on your bodies, but the anticipatory pleasure also sends more blood flow to her yoni, increasing sensation.
How to go down on a woman?
Start with the outside and SLOWLY work your way in. It's not just the clit that holds sensations and nerve endings. Oral sex on a woman is all about tempo when she's close to orgasm. If she's vibing what you're doing, keep the motion steady until she climaxes.
What are some anal sex tips for men?
Stock up on lube and take it really slow with anal penetration. Ease off at any pain — despite the common saying, it's not pleasure. Encourage her to communicate and begin with doggy position.
How to spice up my sex life?
Surprise her with new places to explore each other's bodies (under the stars can be particularly erotic), play around with sexual fantasies and new positions, or even record together for a spice sex tape-watching session.
How to be physically romantic?
Human sexuality relies heavily on body language — so be sure to get close. For example, rub her back, gently squeeze her shoulder, grab her from behind and squeeze, or give her a playful ass grab.
How to have oral sex with a woman?
Oral sex starts with curiosity and teasing, and take your time. It takes theu003ca href=u0022https://www.health.com/condition/sexual-health/female-orgasm-factsu0022 data-type=u0022URLu0022 data-id=u0022https://www.health.com/condition/sexual-health/female-orgasm-factsu0022u003e average woman 10-20 minutes of sex play to reach orgasmu003c/au003e — but the longer you delay the big O, the longer she is in a state of blissful pleasure!
What are some sex tips for men on how to please their woman?
The biggest sex tip is learning to read, understand and love your woman the way she truly desires. Of course, this process takes work, but it is endlessly enriching and fulfilling.