If you are reading this, you probably asked yourself, "are penis pumps safe?". And If you suffer from erectile dysfunction (ED), it can lead to embarrassment in the bedroom. There is a way that you can overcome this problem. You might want to use a penis pump. While this tool can allow you to enjoy penetrative sex again, it's understandable to have concerns. After all, this is a sensitive area and you don't want to harm yourself. Here's what you need to know about the safety of using a penis pump.
What Does A Penis Pump Do?
This equipment aims to help you improve blood flow in your penis. This will help you overcome ED, which prevents you from getting enough blood in the penis to maintain an erection.
Sometimes, though, it can be used to treat other conditions. For example, you might be recovering from prostate surgery or prostate cancer. This can make it harder to get an erection, so you might have to rely temporarily on a penis pump.
Is Using A Penis Pump Safe?
The good news is that using a penis pump regularly is safe. Even better, there is no limit to the number of times you can use a penis pump each day. However, it's best to wait 24 hours between pumps. Furthermore, while other treatments are available for ED, a penis pump is one of the least dangerous options.
It should be noted that it is safe to use a penis pump alongside other forms of ED treatments. There is little risk that drugs like Viagra will increase the risks of using a penis pump. Combining the two might give you a stronger, more powerful erection.
However, a penis pump might not be right for everyone. If you have a history of blood disorders, you should be careful about using a pump. This includes those who have blood disorders or use blood thinners. It's also not appropriate if you have a history of blood clots. If you aren't sure about using a penis pump, it's a good idea to ask for your doctor's advice.
6 Safety Concerns When Using A Penis Pump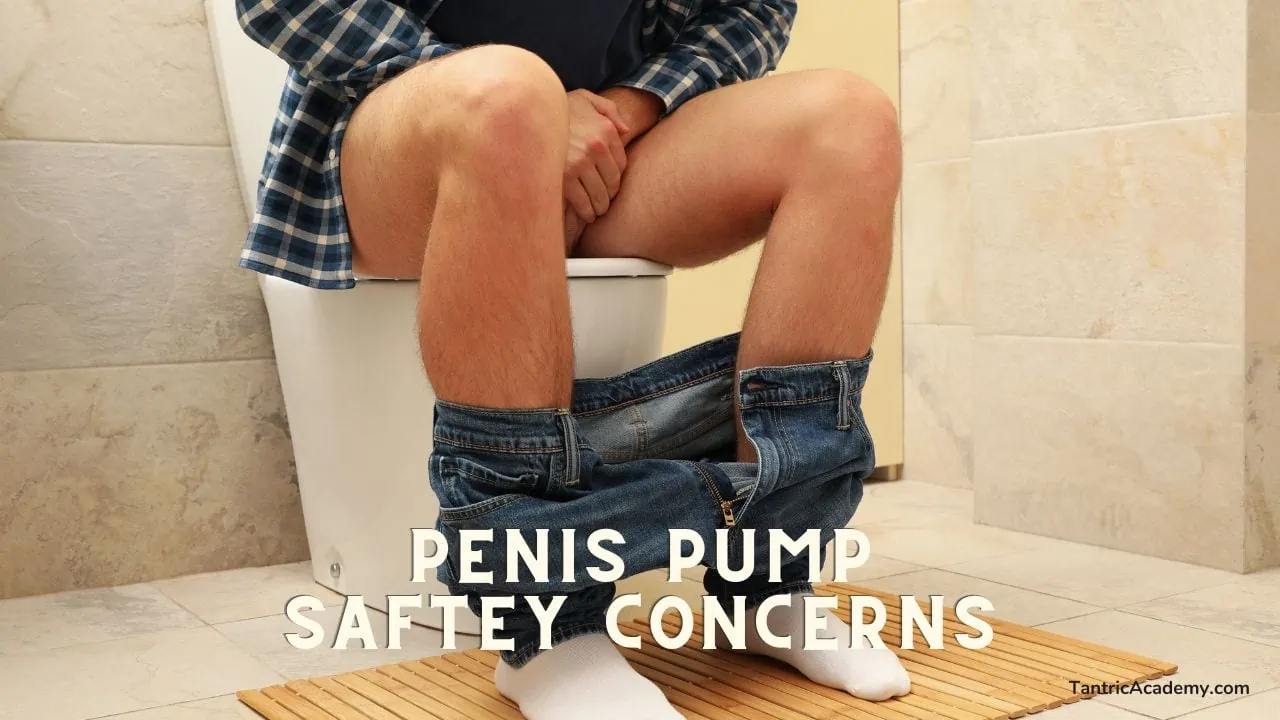 Most of the time, a penis pump is safe and effective. You shouldn't feel any pain or discomfort when using this tool correctly.
But there are a few potential safety concerns that you should be aware of:

1. Bruising
First, you might notice some pain and bruise. This often occurs when you are using the pump too frequently or are using it incorrectly. It's best to avoid using the pump for a few days. Any swelling should go down.
2. Penis Numbness
Another common issue is your skin tingling or becoming numb. This is a sign that the penis pump is too tight and is starting to constrict the blood flow. The good news is that this is an easy fix. You simply need to upgrade to a larger ring.
3. Restricting Blood Flow
It's common to wear a constriction ring during sex. This helps ensure that the blood stays in your penis. However, if the ring is too tight, it can cause painful ejaculation. It might also be making your penis feel numb as you start to restrict circulation.
4. Bursting Blood Vessels
A more serious concern, though, is bursting blood vessels. This often occurs because you have used too much pressure. When this occurs, you will notice small red dots on your penis. If this has happened, it's best to visit your doctor and get the damage assessed. This article has more information about the potential health consequences of using a penis pump.
5. Awkward Erection Feeling
Lastly, it should be noted that you might notice a difference in how your penis feels after using a pump. Often, the base of the penis won't become hard. As a result, you will have more flexibility, allowing you to move into new angles. As a result, it can feel like your erection no longer feels natural. It will often take a few sessions for you and your partner to get used to how the pump feels.
6. Embarrassment
Other than safety concerns might be that you feel a little self-conscious or embarrassed about having to use a pump. This can take away some of the joy of having sex, leaving you reluctant to be intimate with your partner. It's best to address this issue head-on with a frank discussion. Here are some tips to address ED-related performance anxiety.
Do Penis Pumps Work?
Penis pumps are highly effective, helping you get a firm erection. This is because they use suction to help draw blood into your penis. This is what causes it to swell and become erect.
It should be noted that penis pumps won't increase the size of your penis for a long time. Often, the effects will only last for around 10 to 15 minutes. Because of this, it's common to use a cock ring. This helps keep the blood in the penis, so you can maintain an erection for longer.
WATCH FREE TRAINING NOW
Boost your confidence, master your sexuality, and find your purpose.

So you can reignite the passion in your relationship or attract your perfect woman.

Alternatives To Using A Penis Pump
It should be noted that there are a few other treatments that you can explore. If you are struggling with ED, there are a few natural methods you can try. Sometimes, managing your anxiety levels and getting the right amount of sleep can help. If you struggle with small penis size, you can try losing weight or shaving your pubic hair. This will help your cock stand out. Or natural penis enlargement like jelqing.
You can consider some natural ways to get better performance in the bedroom. For example, this tantric testicle massage can help boost testosterone levels to increase your libido and sperm count. You can also try this 11-step process to use tantra to overcome ED.
However, the most common alternative to a penis pump is taking medication to aid ED. The most well-known brand name is Viagra. You might need a prescription from your doctor to access this drug. Furthermore, you will need to consider the side effects.
Another option is to use ED gels. This is applied to the penis, where the gel helps to increase the size of the blood vessels, so it will be easier to get an erection where you are aroused. But this can come with several potential side effects. First, you might develop a rash or inflammation around your penis. There is also the risk of a urinary tract infection.
Some men opt to consider a surgical option, having a penile extension. This might not help with ED. But it will aid those who are concerned about the size of their penis. However, like all surgeries, this procedure comes with risks. Because of this, most doctors recommend a non-surgical option before taking this approach.
Some people claim that acupuncture can help you with ED. This is a fairly safe treatment option. But the evidence doesn't support the effectiveness of acupuncture. This article goes into treatment options for ED and their potential risks. Generally, though, penis pumps are one of the safest ways to treat ED.
Finding The Right Penis Pump
There are many types of penis pumps on the market. But not all of them will be suitable for you. Sometimes, a doctor will offer you a prescription. If not, you will need to select one yourself. Here are some of the ways you can find one that will suit your needs.
First, you will need to consider the size of your penis to ensure that you find a pump that will fit you properly. You will need to know the length and width of your cock when you are erect.
The next thing to consider is the type of pump you want to have. For example, you might want to choose something that relies on a motorized pump. This will be the easiest to use, but it will be expensive. On the other hand, a manual pump can give you more control.
Secondly, you want to choose between a vacuum pump or a water-based pump like the Bathmate Hydromax.
Regardless of which type you choose, there should be a way for you to monitor the pressure. This allows you to stop pumping if you are reaching a dangerous level.
It's also important to choose a pump that will last for a long time. Many of the top brands will provide a warranty to certify their products. This guide will give you more tips on finding the right penis pump for you.
How To Use A Penis Pump?
Thankfully, using a penis pump is fairly easy. The first thing you need to do is to place the pump over your penis. Check that your testicles are outside the pump. It can be painful if they get sucked into the tube. Then, you can start creating a vacuum. Sometimes, this will require you to pump by hand. At other times, you will be able to use an electric pump.
There are a few things you can do to make sure that you can get strong suction. First, it can help to shave your pubic hair. You might also want to use some lube before you start pumping. This gets you in the mood for sex and helps create a strong seal.
As you do this, you will notice that your penis grows erect as the blood rushes into the area. Pay attention to the pressure inside the pump, ensuring it doesn't become too high. This process shouldn't take too long. Some machines will be able to get you hard within 30 seconds. At other times, you might need to wait for a few minutes. You shouldn't pump for more than 10 minutes.
Once you have a strong erection, you can remove the pump. Don't forget to release the pressure slowly. To ensure that your erection lasts for a long time, you can place a ring around the base of your penis.
Incorporating Penis Pumps In Sexual Intercourse
You might want to invite your partner to pump you up before sex. This can be a fun part of foreplay, as you both get to watch your penis grow erect and ready for action. Sometimes, this can also be used as part of BDSM play, giving power to your partner. Plus, you will be able to watch your penis grow stiff while being unable to play with it. This can be a form of chastity play. But there should be a safe word if your partner raises the pressure too high. This blog post has some fun ideas for other ways to add a little more fun to your sex life.
Penis Pump Precautions
While penis pumps are safe, there are a few things to remember. First, you will need to select your pump carefully. Sometimes, this can cause injury. Most commonly, this occurs when you are using a penis pump that is too small to accommodate your member.
It's also a good idea to read through the manufacturer's instructions carefully. Though most of the pumps are fairly straightforward, it's a good idea to double-check that you are using them properly.
Lastly, if you are planning on using the pump frequently, there is a chance that your penis might dry out. Thankfully, this is an easy situation to prevent. All you need to do is use a little moisturizing cream. Just make sure that it has been designed specifically for penile skin. I personally recommend a thicker lotion for masturbation like this one.
Keeping The Penis Pump Clean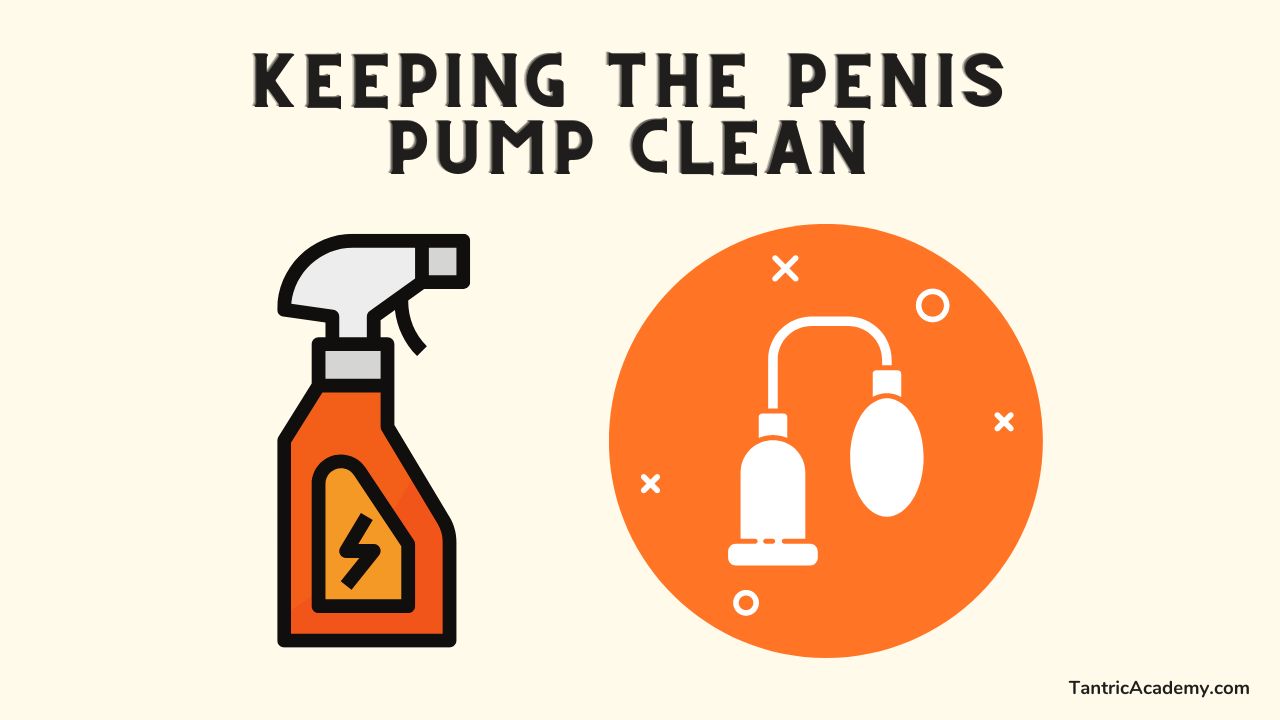 It's important to make sure that you are keeping your penis pump clean. The last thing you want is for a build-up of bacteria to cause an infection. The way you clean it will depend on the type of pump you have.
For a manual pump, you should be able to remove the tube. This will allow you to run it under warm water. You should also be able to use some fragrance-free soap. If you have an electric pump, you might be unable to detach the tube. Instead, you will need to rub the inside of the tube with a soapy cloth. Just make sure to keep any water away from the electrical elements.
Make sure that your pump is completely dry before you put it away. This will ensure that mold doesn't build up within the tube. You might want to put it into a bag. This will protect it from dirt and grime. If it's been a while since you've used the dump, you might want to wipe it down with a damp cloth before you begin.
Conclusion
Penis pumps are a great way to help you get a strong erection. This is most commonly used by those with ED, but it can also be a fun type of foreplay to prepare for sex. The good news is that this tool is considered safe. As long as you use it properly, you should have minimal side effects. So, grab one of these toys and give it a try for yourself.
If you want to enhance your sexual performance to improve your dating life and relationships, check out my free training here.